Well, back from a wonderful trip to Hugglets! It was wonderful to catch up with old friends and meet new ones. Seems like forever ago we were waking early to drive into London for the big day!
While I was away I was lucky enough to visit Buckingham Palace and see the special exhibition of Kate's wedding dress, tiara, cake, shoes, as well as the State Rooms of the Palace. Sadly, no photos were allowed inside, but it was a fabulous experience that I will remember for a long time.
A special treat was Afternoon Tea at Fortnum and Masons also in London. I felt like royalty, sitting back in their plush sofa and being treated to cakes and perfect sandwiches on pretty china. Spoiled!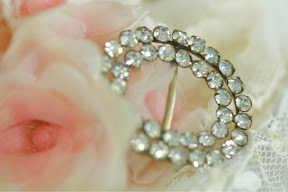 A pretty vintage rhinestone buckle I found at an antique market near my friend Susan's house.
After Hugglets it was across the Channel in the Eurostar- or should that be under the Channel? Up to Brussels and then onto Ghent for another show. It's so interesting to visit shows in other countries! Here I mostly purchased mohairs... Beautiful hand- dyed colours! I was hoping to find lace, but most pieces, while lovely, weren't what I was after.
Then a short trip down to Paris on the Thalys train for a week.. I stayed in a beautiful wonderful apartment on the Left Bank not far from Notre Dame.. In fact I could see Notre Dame from my windows, and hear the bells. I also ventured to my first Paris flea markets! One, Porte des Vanves, is on every weekend. Here I bought laces, old flowers, old postcards and some tiny fluted metal tart tins to use with the bears.. Just HOW I am going to use them I am not sure yet! But I just had to buy them, I'll figure the practicalities out later! So many interesting things to look at, tho sadly many items were just too big to fit in my already bulging suitcase.
The other flea market I found out about accidentally, and it was less than five minutes walk away. Here the lace was much more reasonably priced and I stocked up, of course! I don't speak much French, but it's amazing how much you can understand when you have your eye on something!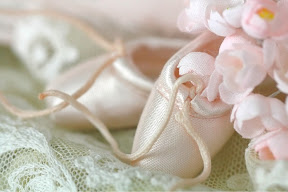 Tiny pointe shoes I found at the Opèra Garnier in Paris, somehow I will use these with a bear!
The lace was a beautiful scarf I found at the nearby flea market in Paris, with a Macaron box from the best Macaron maker in the world ( in my humble opinion of course!) -Ladurée. I have researched the Macaron extensively so I feel I can say that with some authority...:) of course, the research continues... Hehe
Another Macaron gift box, too beautiful to leave behind! Have yet to figure out a use for this too, but I will! Inside is metallic gold...
Beautiful lace and another view of the Macaron box.. How 'Marie Antoinette' is that box! Ladurée made all the sweets and cakes for the 2006 movie version of Marie Antoinette, and each of their cakes is definitely something out of a royal banquet. They don't taste too bad either!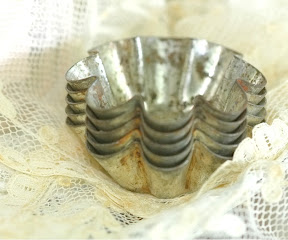 Tiny vintage metal tartlet cases... What to do with these....
Beautiful vintage flowers from Porte des Vanves market..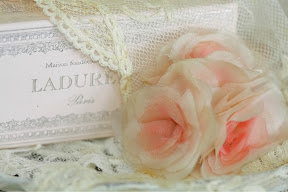 I'm probably going to keep these for a while before I can bring myself to use them!
Pretty cherry blossoms from a fabulous shop in London, V.V Rouleaux. A MUST visit if you love ribbons and trims!
Now, it's back to the grindstone to get ready for Woodend and the Christmas Treasures online show.... Dreaming of Macarons, elderflower pressé ( a new discovery for me, delicious! I wonder if we can get it in Australia?) and yummy French baguettes!
- Posted using BlogPress from my iPad